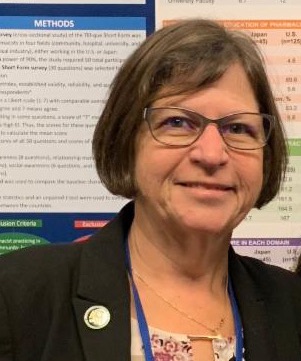 Janice Hoffman-Simen, PharmD, EdD, APh, BCGP, FASCP
Janice Hoffman-Simen is currently an Associate Professor of Pharmacy Practice and Administration at Western University of Health Sciences in Pomona California. She is a Board-Certified Geriatric Pharmacist, licensed California, Advanced Practice Pharmacist and a Fellow of the American Society of Consultant Pharmacists. She received her Pharm.D. from the University of Southern California and completed a Residency in Clinical/Administrative Psychiatric Pharmacy Practice with an emphasis in geriatrics from the University of Maryland at Baltimore. Recently, Dr. Hoffman-Simen completed her Ed.D. (Doctorate in Education) in Organizational Leadership from the University of La Verne. She has been innovative in creating communication channels with physicians, getting Geriatrics into California Senate Bill 493, implementing interprofessional teams to include a pharmacist in her facilities as well as designing, implementing and achieving an ASHP-accredited PGY-1 residency in a skilled nursing facility.
Professionally, she has received accolades as the Commission for Certification in Geriatric Pharmacy (CCGP), Excellence in Geriatric Practice Award and has served as National President, Phi Lambda Sigma, Pharmacy Leadership Honor Society; Chair, California Pharmacist Association-Academy of Long-Term Care, Board of Directors for California Long-Term Care Medicine and Past President for the California Chapter of the American Society of Consultant Pharmacists.